Hi there,
Today students will work with a Newton's Cradle to apply the 3 laws of motion that Newton created.
Click the Cookie Monster for your lab walk through.
Try a virtual Newton's Cradle (sorry, won't work on an IPad)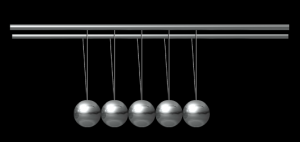 Done?  Great, take the quiz to see if you really got it!
Have Extra Time?  Try Landing on the Moon using Newtonian Forces!
–Russo